You can add a company to HubSpot manually, by logging an email, or by scanning a business card using the HubSpot Mobile App.
How to Manually Create a Company in HubSpot
1. Navigate to Contacts > Companies
2. Click Create Company in the upper right corner
3. In the Create Company pop-up enter the Company domain name (website home page address) and Name (of the Company). Depending on your settings, you may see some additional fields such as Company owner (contact owner), On Hubspot, Class, and Vertical.
4. Enter contact information, then click Create Company at the bottom of the pop-up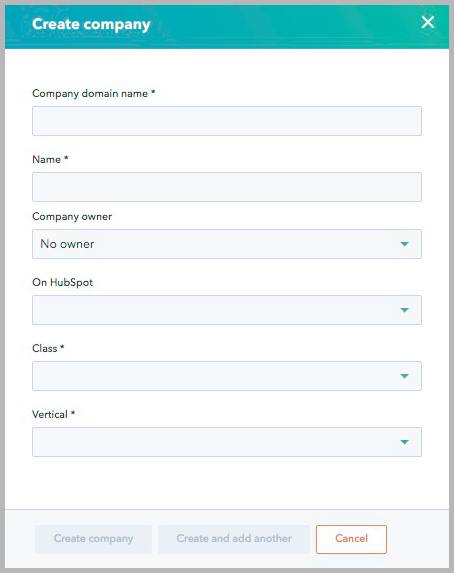 How to Log an Email and Add a Company to HubSpot
Any time you select log an email to HubSpot (via the HubSpot inbox plug-in), HubSpot will automatically log the email to the associated recipients contact timeline.
If a company that your contact belongs to does not exist in your account to match the contact's email domain, HubSpot will automatically create a company record and populate it with information from HubSpot's database. If the contact has a freemail email account (gmail.com, yahoo.com, etc.), HubSpot will also look at the contact's Website URL property to attempt to match the contact with a company's domain name.
How to Scan a Business Card to Add a Company to HubSpot
You can add a company to HubSpot using the card scan functionality in the HubSpot mobile app - Read instructions on adding a contact to HubSpot using the app, here.