Use HubSpot's Blog tool to create and publish compelling blog content as well as optimize your posts for SEO in order to drive traffic to your site.
Create a Blog Post
1. In HubSpot, Navigate to Marketing > Website > Blog
2. Click Create blog post button in the top right of the window
3. Choose whether to create a post in draft mode or inline edit mode
Draft Mode: Focus on writing and content - publishing options will not appear until you're ready to optimize and publish.
Inline Edit Mode: Write, optimize, and publish all in one view
4. Hover over the blog post title module and click the pencil icon to enter your post title
Customize Post Settings
Use the tabs at the top of the page to navigate to the Settings tab.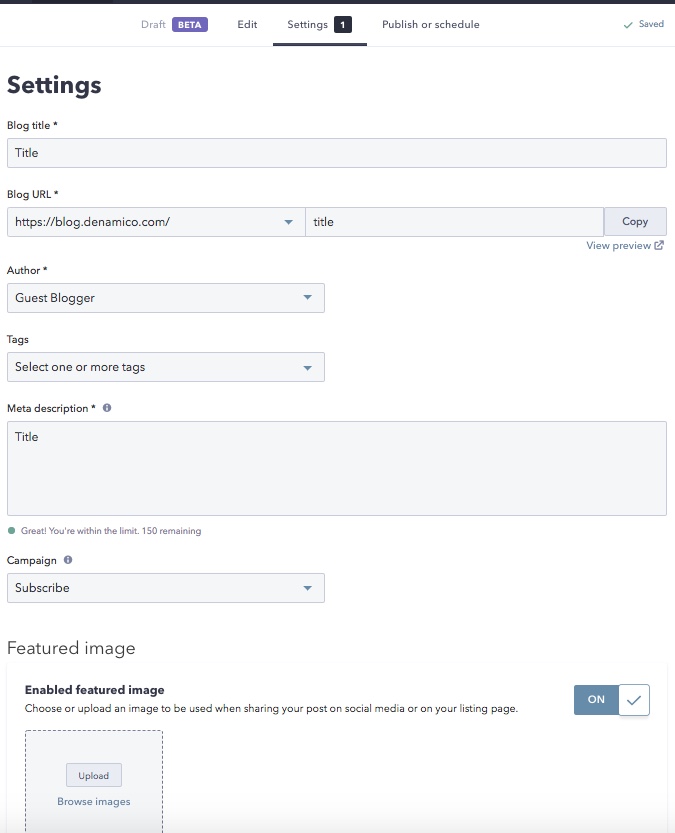 1. Edit Blog title or Blog URL as needed
For best SEO, make sure your title contains your most important keyword
2. Assign an Author
Click the Author dropdown menu to select an author for the post
Click + Create a new author if the author doesn't exist in HubSpot
3. Add Blog Tags to Post
Each blog post should have a max of 3 blog tags
Click the Tags dropdown menu
Start typing tag in field
To add a new tag, click + Add [name of new tag]
4. Write Meta description
A good meta description will drive search engine traffic to your page, so be descriptive but keep it under 155 characters.
5. Associate Post with Campaign
From the Campaign dropdown bar, select a Campaign to associate the post with
6. Set Featured Image
Switch the Enabled Featured Image toggle on to include a featured image
Select Browse Images to select an image from your file manager OR Upload to upload an image from your computer. This image will be featured as the link's thumbnail image when sharing on social media, etc.
Optimize & Review Blog Post
Use the tabs at the far left of the window to navigate to the Optimize view (graph icon).
1. Attach Post to a Topic
Linking subtopic keyword content back to your pillar page establishes authority for your topic in search engine results.
Click the Core topic dropdown to select a topic
If this post is the pillar page for this topic, select Add topic keyword and jump to step 5. If this is a post for a subtopic follow steps 3-5
Select the checkbox for Is this supporting content?
Click the Subtopic keyword dropdown menu to select a subtopic keyword. If you don't have a subtopic keyword related to this page yet, select Add subtopic keyword. Enter a subtopic keyword and click Save.
Click Attach to topic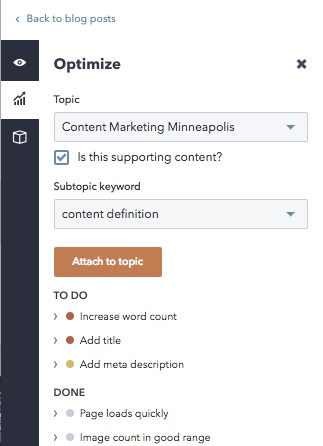 2. SEO Optimize Content
Use the optimizer in the content editor to review suggestions to improve your content for SEO best practices.
1. Check for H1 tag
Post should contain at least one H1 tag
The alt text should match the file name, without dashes e.g. Inbound Marketing Software
File name should contain key phrases related to your topic (see post topic, below). Each word should be separated by dashes (-), e.g., inbound-marketing-software.jpg.
Add links to sites with information that's relevant to your content
5. Check for Internal links
Each page or blog post should contain a link to your pillar page for the post topic (see post topic, below).
6. Add/Update Page Title
Title should be less than 70 words and include the subtopic keyword and domain
7. Check for Subtopic phrase in the Content & meta description
Content attached to a subtopic keyword (see post topic, below) should feature that phrase in the content and meta description.
Publish or Schedule Blog Post
Use the tabs at the top of the page to navigate to the Publish or schedule tab.
Click the radio select for either Publish or Schedule
If you click scheduled for later, update the scheduled date and time
Click Schedule or Publish below to save and complete.