Use HubSpot's social tool to create and publish social posts to promote your organization.
In your HubSpot account, navigate to Marketing > Social.

The social publishing dashboard displays all social posts that have been published from your HubSpot account.
In the upper right, click Create social post.
In the right panel, select the first social network

to create your social post.

In the text box, enter the content for your social post.
To attach a HubSpot-hosted blog post or landing page to your post, click the attach icon attach and select the blog post. If you want to share content that isn't hosted on HubSpot, enter the content link directly into the text box.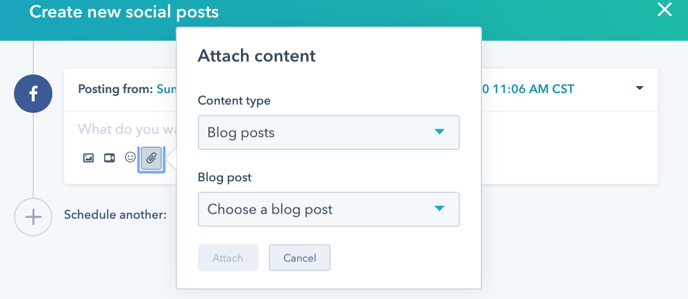 To insert an image, click the image icon and select an image or upload one to HubSpot.

The composer will automatically select a publish date based on your social publishing schedule, but you can change the date by clicking the When dropdown menu. You can select a specific date and time, or click Publish now to publish the social post immediately.


Lastly, select a HubSpot campaign to associate the social post with. In the bottom right, click the Campaign dropdown and select a campaign or click Create a new campaign.


In the bottom left, click Schedule post or Publish post now to schedule it for publishing or publish it immediately, depending on the publish date and time you selected.