HubSpot Social Tools provides the ability to schedule, post, track, and report on posts made on LinkedIn, Facebook, Instagram, and Twitter.
Before you begin, your social media accounts must be connected in Hubspot.
1. Create Social Post
In HubSpot, navigate to Marketing > Social and stay on the Publishing tab
In the upper right corner, click Create social post
Select the first social network to publish your post to
Write the post, then attach the content you're going to promote
2. Attach Content to Post
To post a HubSpot blog or landing page:
click the attach icon 📎
Select the blog post or landing page
Click ok.
Content hosted outside HubSpot:
Enter the content link (URL) directly into the post
Once you've added the content link, a post preview will be created from the content metadata. This will include a picture (if available), title, meta description (if available), and link.
3. Add Image(s) or Video to a Post
Click the image icon or the video camera icon
A side bar will open on the right side of the screen. Select an file from list or click Add Image /Video for more options. Image will offer you options to Upload files from your computer or access files from a URL, Dropbox or Google Drive.
4. Duplicate Post (Optional)
Once done creating your social post, you can clone it for posting at a later date or to another platform.
1. To automatically duplicate your existing post content into a new post, click the corresponding social icon next to Schedule another. This will create another post that you can edit separately from your previous post (change the text, photos, publish date, etc.).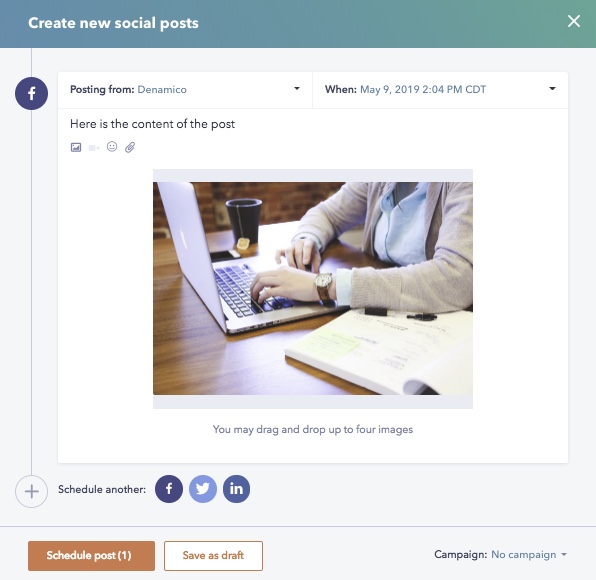 4. Publish or Schedule Post
1. Choose the date and time you would like your post to be published by clicking the date listed in the top right corner of the window.
2. Click the campaign dropdown in the bottom right corner of the window, then select a campaign for the post to be associated with.
3. Click Schedule post in the bottom left of the window.
4. Your post(s) will appear on the list and calendar views in order by date.