The documents tool can be used to create a library of trackable content for your team to share with prospects or clients - get real time alerts when a contact engages with your doc and view aggregate metrics on content performance.
Add a Document
1. Navigate to the Documents tool inside HubSpot - Sales > Documents
2. Click Upload new document in the upper right hand corner of your screen, then select where you would like to import your document from (i.e. Local file on your computer)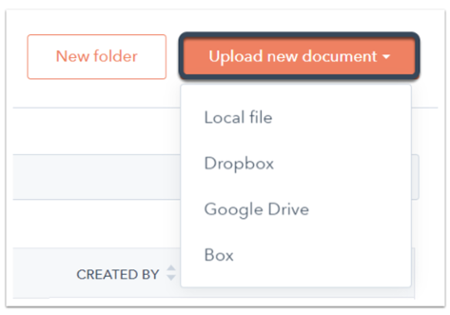 Note: Your document must adhere t0 these file type and size restrictions
Once a document has been uploaded, it will appear in your documents dashboard.
Share a document
HubSpot will automatically track a shared document, which will provide real time notifications when a contact views your document.
Share a document through the documents tool in HubSpot
1. Navigate to the Documents tool in HubSpot - Sales > Documents
2. Click the document you would like to share
3. In the pop-up box that appears (under who are you sending this to), enter the email address for the recipient you would like to share your document with
Note: To track the individuals who view this document, click the toggle Require email address to view document
4. Click Copy to the right of the URL to copy the URL link to the document, or click Email from CRM below the URL to jump to the contacts' timeline inside HubSpot