HubSpot products provides you a library of all the products or services you sell. Products can be added to deals to provide easy tracking of what your team is selling, including automated reporting on avg. price, quantity, and margin.
How to add products to a deal
NOTE: Products are a paid (Sale Professional) feature in HubSpot
1. Navigate to the deal you'd like to add products to - Sales > Deals, then click the deal you'd like to edit.
2. In the right column, navigate down to the Products section, click the Add products button.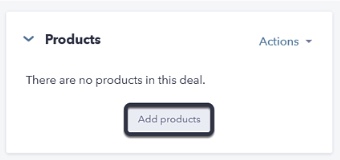 3. Select product(s) from the pop-out box, then click add
4. Once you've selected the products you'd like associated with the deal, click add - next, you can choose to update the term, unit price and quantity of each product with specifics for this unique deal.

Note: The Summary section on the right side of your screen displays the total price of all products associated with the deal. Update deal amount to $x will be selected by default, and will update the deal amount to the Total listed in this section.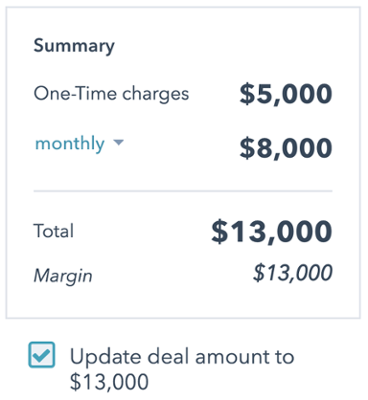 If you do not want to update the deal amount based on the associated products, deselect this option.
5. Click Save
6. Navigate back to deal - scroll to Products on the right side of your screen to view all products associated with the deal at a glance