You can create and send a quote through HubSpot from any deal with known products in your pipeline - Quotes will provide you a quick and easy way to create and send a web page containing pricing and product information.
Quotes is a feature of Sales Hub Professional and Enterprise
Create a Quote
NOTE: You can only create a quote for an existing deal with at least one product associated with it. Click here to view instructions on how to create a deal or add products to an existing deal.
1. In HubSpot, navigate to your deal pipeline - then, select the deal you would like to send a quote for
2. In the right column of the deal record (page), scroll to the Quotes section and click Create a quote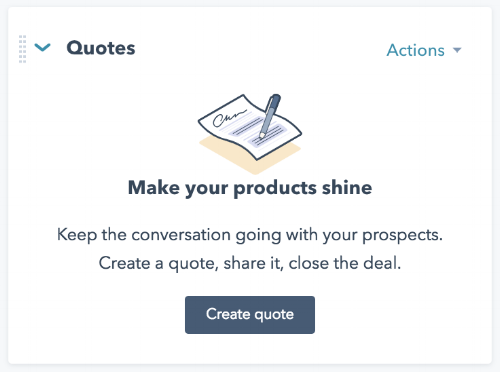 [NOTE: Products must be added to a deal before you can create a quote]
3. Walk through the steps to create your quote
Share a quote
Option 1: Share a quote from the pop-up dialogue box upon completion of a quote
Click Copy to copy the quote page's URL (You can paste this URL into your browser to preview your quote before sharing, or to send the URL to others you would like to view the quote.
Click Write email with quote: HubSpot will bring you to the contact's timeline with an email automatically created including a link to the quote page - complete the email message and click send.
Option 2: Share a quote from a contact, company, or deal record (page)
1. Once on a record, click the email tab
2. Click Quotes (In order for Quote to appear, there must be a quote created for the deal(s) associated to the record you're on)