Do the standard stages in the ticket pipeline not quite fit your real life processes? Not to worry, you can customize the pipeline stages to fit your unique needs.
In your HubSpot account, click the settings icon (gear icon) in the main navigation bar.
In the left sidebar menu, navigate to Service > Tickets.
In the Ticket pipelines and stages section, click the name of a pipeline.
Click + Add another stage at the bottom of the current list of stages.
Enter a ticket stage name, then click the dropdown menu in the Open or Closed column and select if the ticket stage should set a ticket as Open or Closed.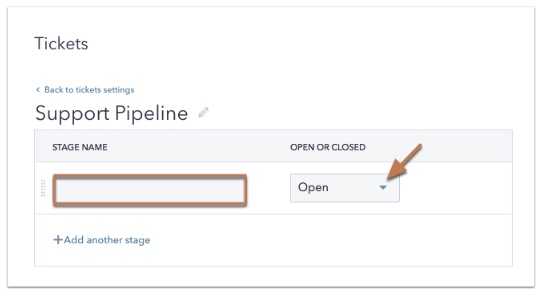 To reorder a ticket stage, click on the far left side of the row and drag it to a new position.
There is no "save"