Now that you have tickets in your queue, here's how to organize them into a useful view.
Set up your tickets dashboard and export tickets
Your tickets dashboard (Service > Tickets) lets you manage all of your tickets in one place. You can customize your dashboard views using the left sidebar:
Click the Pipeline dropdown menu in the left sidebar to view a different ticket pipeline.
Click + Add filter to create saved filters of your tickets based on specific ticket property values.
Click All saved filters to select one of your existing saved filters.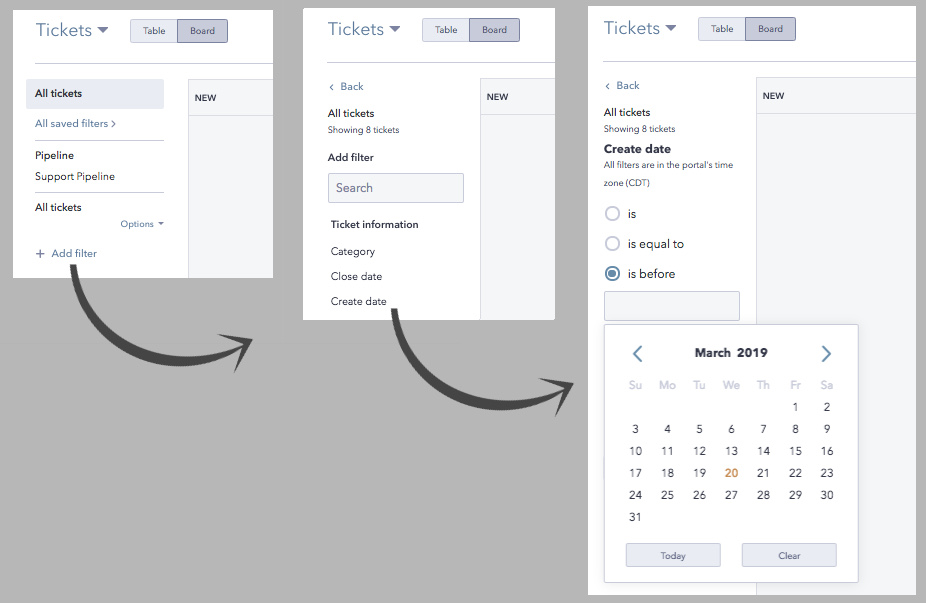 You can also switch between two default dashboard views using the tabs in the top left.
The Table view lets you see a detailed list of your tickets and ticket properties. To customize which properties appear in this table view, click the Customize dropdown menu and select Edit columns. Click the checkbox next to any property on the left to add it to your dashboard. To remove a property, click the X next to it in the Selected column.
The Board view organizes your tickets into lists by status so that you can visualize the state of your tickets queue. In this view, you can drag and drop tickets to move them to a new ticket status.
Once you've customized your dashboard as needed, you can export your tickets by clicking the Options dropdown menu in the left sidebar and selecting Export.