Using the Office 365/Outlook add-in, you can track (opens and clicks) and log your emails to HubSpot directly from your Outlook inbox.
Emails can be sent, logged, and tracked through HubSpot or your email inbox. Before getting started, make sure you understand the difference between a logged and tracked email:
Logged email: A logged email is recorded on the recipients timeline in HubSpot to create a record of all email communications with a prospect or client.
Tracked email: A tracked email gives you insight into how a recipient interacts with your email. Email opens and clicks notifications will be logged in the HubSpot Activity Feed. Real-time notifications require the HubSpot Chrome extension or the HubSpot for Windows app (windows only) - if neither of these plug-ins have been installed, notifications will only be available in your HubSpot activity feed.
Install the Office 365 or Outlook add-in to track and log emails to HubSpot
Before you can track and log emails to HubSpot, you need to download the Office 365 add-in.
1. Go to Microsoft App Source
2. Click Get it now

3. Enter your email address and sign into your email account
4. Follow instructions to complete install process
NOTE: If prompted to download HubSpot Sales for Windows, click Download now in the pop-up box.
Send a logged and/or tracked email using Office 365 or Outlook
To send a tracked email from Office 365 or Outlook:
1. Open Office 365 or Outlook online & log in to your email
2. Compose a new email, including the email recipient and subject line.
3. Click the HubSpot icon in the bottom right hand corner of the email window
4. Check the box(es) for Track email opens and/or Log this email to HubSpot
[When the box to log an email to HubSpot has been checked, a bcc address will auto-populate in your email]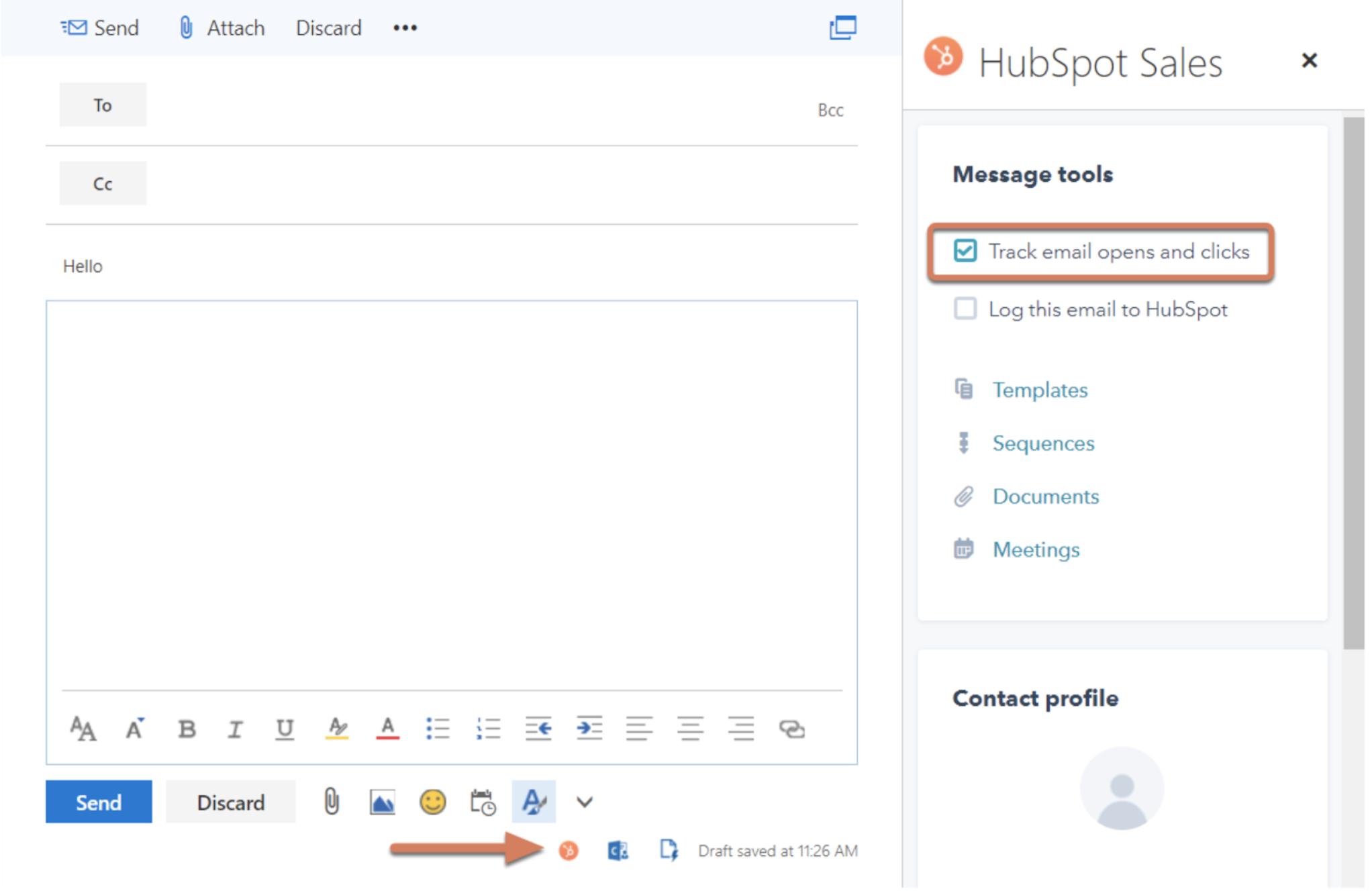 In order to send emails through HubSpot and log incoming emails to contact timelines, you must connect your inbox.